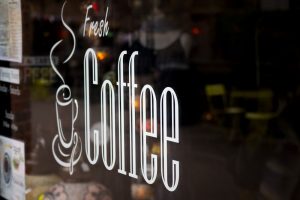 As we all return to work we'll likely find that we have to do more marketing and selling than before COVID-19 turned up because our customers are having the same slow time that we are. So what are we going to market, the same stuff we did before or are we going to look for opportunities in the "new normal"?
Well here's an idea for your sign shop to keep your Roland printer/plotter busy . . . Look around your city/town/village for businesses such as I described two posts ago on 24th June. These are places whose current signs don't readily explain what the business does.
You're going to introduce yourself as a sign expert. You're going to point out why their current sign isn't likely to to draw in customers looking for whatever product they're offering. You're not going to suggest that they change their existing signs (they probably paid a lot for their fancy but inadequate signs and will balk at another big bill), rather you're going to suggest vinyl lettering in a prominent place (such as a storefront window).
So, for example, for the coffee shop I mentioned in the 24th of June post, you'd offer him lettering that spells out C-O-F-F-E-E in his front window.
A lot of small businesses don't seem to understand that unlike major multi-national brands, their store name doesn't matter to most people.  What matters is what they sell. If the store sign doesn't tell what they sell, you have an opportunity to get your Roland some work.