Just days ago we published a post on the textile blog about appropriate business practices in this time of crisis. You can read it here.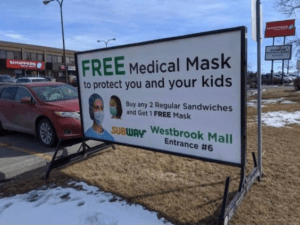 Then at about the same time the sign in the illustration with this post appeared outside a mall in Calgary. Complaints followed in short order and the sign was removed and an apology issued. This is good but one must ask, what was this business thinking?
It of course also raises a question we've explored before about whether a sign shop should take orders for obviously problematic signs. Should sign shops impose standards on their customers or at least try to talk them out of potentially problematic signs?
This is not only a moral issue (in this case using medical materials in critically short supply to sell sandwiches) but a business issue if a problematic sign becomes associated with the printer. All it will take for that to happen is for a journalist to include the print shop's name in a report.
All stuff to contemplate.