The thumbnail version:
Roland has released the TrueVIS VF2-640.
The full version:
Roland says that the new TrueVIS VF2-640 large-format printer offers the richest and most vivid TrueVIS colour output yet. They also say that It allows users to build their brand, reputation, and success with unmatched colour output and the ability to target specific colours.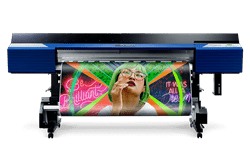 The promotional material for this new printer includes some bold claims: "Featuring award winning TR2 inks and new Green and Orange ink choices to target previously unreachable colours, the 1626-mm (64-in.) VF2-640 printer is the ideal solution for sign and graphics professionals who want to recreate brand colours for their clients. It allows users to get consistently brilliant results on signs, vehicle graphics, displays, and other applications with approximately 260 new spot colour references for Orange to Red areas and Blue to Green areas. These spot colours are available in the latest edition of the included VersaWorks 6 raster image processor (RIP) software that combines with a new True Rich Color 2 preset to maximize the potential of both printer and ink for outstanding vibrancy, neutral greys, smooth gradations, and natural skin tones."
For more on the new TrueVIS VF2-640 and other Roland printers, call Rob at Stanley's Edmonton office – 780 424 4141.