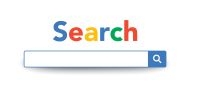 The thumbnail version:
The best Google position for your website address is on the first page
It requires some effort to position it on the first page but it can be done
A website quickly found by a searching customer can result in business
Is your shop's website in the lists below?
The full version:
As a matter of curiosity I Googled "Sign printers" to see what came up in various locations around the country.
It's said that ideally you want to have your website come up on the first page when someone searches your topic. Now, of course, it takes resources, effort and probably some outside consulting help to have your website come up on a first Google page. But I wouldn't dismiss the idea until I'd researched the matter to see if your shop could come out on the right side of a cost/benefit analysis.
It may even be worth placing an advertisement, as some of the larger players do, but again, it would need an assessment to determine if it's worth your while. For now though lets ignore paid-for advertising and just address regular, no-cost ranking on Google.
Here are the results of two of the searches in which I specified a city name ("Sign printers" plus city name):
Calgary websites;
printshopcalgary.ca
a-1signs.ca
 theallinprinter.com
bigprintsigns.com
signarama.ca
mysignsolutions.com
aerosign.ca
calgarysignsbanners.ca
Vancouver websites:
thesignplace.ca
signarama.ca
multigraphics.ca
fastsigns.com
nutrends.ca
printprint.ca
printingcenter.ca
signmastersigns.com
If your website is not listed above and you're in Calgary or Vancouver, shouldn't you at least consider doing something about it? Same applies to whatever other part of the country your shop may be located.