The thumbnail version:
Once in a while a design stands out.
It can then be used to inspire
The full version: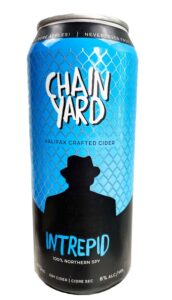 Once in a while you'll see design work that makes you stop and take notice—a design that can inspire; it certainly happens to me from time to time. Yesterday was such an occasion.
We were at lunch in Mahone Bay when Margaret ordered cider. It was delivered in the can in the illustration. Not only did the overall design intrigue me, but when I picked up the can to take a closer look it felt good to handle because the "chain link fence" background and the name "Intrepid" were textured. I'm assuming it was screen printed.
All-in-all the design and printing of the can was as impressive as the contents apparently were.
Well done, Chain Yard Cider Inc. of Halifax, Nova Scotia. Perhaps the design and printing of this can will inspire a print shop artist or two elsewhere in Canada.