The thumbnail version:
Another big expo goes virtual
Attendance is free.
The full version: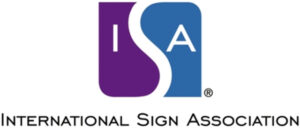 The Board of Directors for the International Sign Association ('ISA') have decided that they cannot risk planning an in-person expo in Las Vegas for April this year and must therefore take it online. The dates remain the same: April 17th to 19th, 2021.
Since the pandemic began, ISA has hosted a number of successful virtual events and are confident that they can therefore use the expertise and experience gained to run a successful expo.
The in person-event was expected to attract 20,000+ attendees and 600+ exhibitors. The fact that people do not have to travel or incur related expenses, could result in an even larger attendance. The overseas attendance will likely be much higher than it might have been for the the in-person event.
Attendance at this virtual event is free. You can register by clicking on this link.