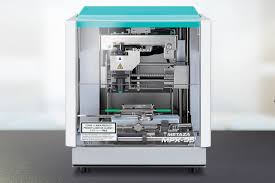 Roland's new METAZA MPX-95 Photo Impact printer is ideal for gift personalization and industrial and medical part marking. It will mark gold, steel, silver and titanium.
The MPX-95 has a removable base plate and base unit to allow imprinting onto larger items. There are kits that allow expanded application possibilities such as the Gift Kit (personalizing gifts) and a DPM Kit (direct part marking).
The MPX-95 includes easy-to-use software, a built-in laser pointer for precise set-up, automatic surface detection, and it is compact and runs quietly.
Talk to Rob at Stanley's in Edmonton (780 424 4141) or Graham in Calgary (404 243 7722) about an MPX-95 for your shop.