The thumbprint version:
Roland D2G for printing novelty fabric items
The full version: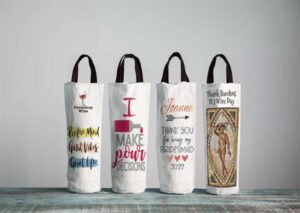 Last October your read here about Roland's direct-to-garment digital printer, the BT-12. One purpose of the post was to point out that graphics and sign shops were diversifying into fabrics as an additional income stream. Well in a recent post Roland shared some great ideas for items that can be printed by the BT-12.
Among a number of different fabric bags being suggested, the one that caught my eye was a wine bag. I agree with Roland that wine bags present a number of online and direct sales possibilities. They'd be good for personalized items for weddings and other such events, for liquor stores, for wine suppliers, for vineyards, and probably a dozen other ideas if one put some creative thought into it.
If you're looking for an additional income stream for your shop, a BT-12 would be worth considering. Give Rob or Graham at Stanley's a call.