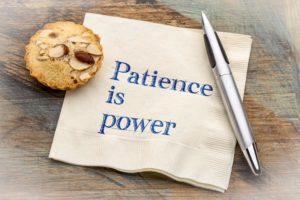 It's amazing how easily front line staff can become impatient with customers. It's not hard to see examples a few times a day in stores and other businesses.
Of course customers are going to be annoying from time to time. Who hasn't had to deal with an angry, venting customer? What about the windbags who take forever to explain the problem? And then there are the ones who'll damage something and try to blame everyone they can think of except themselves while expecting a full refund or a new replacement?
This calls for patience. Patience is one of the most important attributes front line staff need. Lose patience and you stand to make a bad situation worse and possibly even lose a customer you might not want to lose . Of course if you want to lose the customer that's a different matter, but even then it can be accomplished without losing patience.
As this anonymous quotation says: "Patience is when you're supposed to get mad, but you choose to understand." And as the napkin says: "Patience is power."