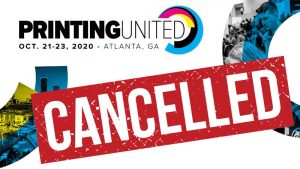 There is reason to be optimistic about the future of the printing industry.
This is what Andy Paparozzi, Chief Economist, PRINTING United Alliance has to say about the U.S. which, hopefully, will apply to Canada as well:  "According to the consensus of economists surveyed by The Wall Street Journal, they expect the American economy to grow robustly in 2021 — by its fastest pace in nearly 40 years. That will give the printing industry a big boost, flipping the mindset from cost reduction and survival to capital investment and growth." 
However, getting ready for 2021 has taken a slightly different tack due to COVID-19. Printing United scheduled for 21 -23 October in Atlanta has been cancelled and an online event will take place instead.  You can find out more here: PRINTING United 2020.