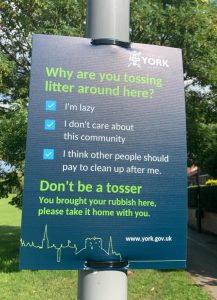 Here's and idea that popped up on LinkedIn.
It could be a good project for your shop that goes something like this:
Approach your local municipality and remind them that your city/town/village has a littering/graffiti/dog poo problem.
Tell them you have a great idea for helping to solve it by raising awareness in an eye-catching humorous way.
Show them a mock-up of a sign like the one here.
Crunch some numbers and give them a price for you to produce the signs.
If you do it right, it could pay off very nicely.