This story comes to us from Cardiff, Wales . . .
3 Sixty is a 10-year-old graphics printer which during the pandemic lock-down got to work while some others threw their hands up and asked, "What now? How are we going to survive?"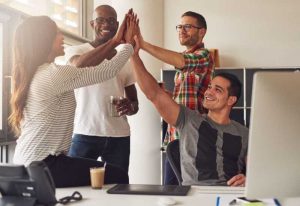 3 Sixty's floor graphics production surged by 80 percent, according to a report by Printing News Magazine. That amounted to about 100,000 floor graphics per week. How has your graphics shop been doing in these strange and challenging pandemic times? Did you see opportunity in the surging market for pandemic-related decals?
3 Sixty's owner has an interesting perspective on the success of his shop: "Control of overheads is key and not to let sales run the business. Clients, staff, and suppliers all need to work together to make any business work." I'm assuming he means that he won't make sales at just any price.
But the bottom line is that with a sound business philosophy and an eye for an opportunity, even in apparently adverse times, success will follow.