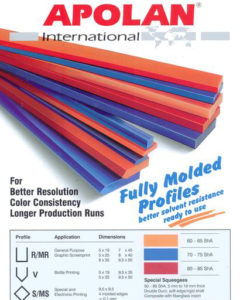 Stanley's is pleased to announce that they now have Apolan squeegee blades. If you're a graphics screen printer you're going to appreciate the solvent resistance of these blades.
The range of profiles and durometers is also extensive. There's a squeegee for every requirement you may have, including special squeegees needs.
The Stanley's staff at all four branches can tell you what you need to know about Apolan squeegee blades and help you find the ones best suited to your needs, both standard and special.
Call any of Stanley's 4 branches and ask for about Apolan squeegees: Edmonton 780-424-4141; Calgary 403-243-7722; Cambridge 519-620-7342; Richmond 604-873-2451; or call Alfred Gunness directly at 416-832-3162.