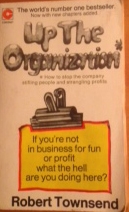 Robert Townsend was born 100 years ago this year. Fifty years ago this year he published his "World's number one bestseller" crammed with great business advice.
Here is his section titled "Telephone Operators" which although written in the not-so-PC language of the time and referencing technology that has since changed, nevertheless has a message about your business telephone that's as relevant now at it was then:
"TELEPHONE OPERATORS
If I ever design a head office, executives row will look like the cubicles of a Trappist monastery, and the telephone switchboard area will look like a Turkish harem. Money spent on offices for the management is largely wasted. If they are any good it will be apparent to anyone after a few minutes no mater how plain or fancy their office is.
On the other hand, how would you like to try doing the telephone operator's job for a day? Remember, you're the company's first contact with the outside world—you've got to be alert and bright and helpful and quick. You've got to know where everybody is all the time. I'd spend money to make the switchboard girls comfortable. The best operators in the area would be lined up for the job"