The thumbnail version:
Follow 5 steps to boost revenue after a sale
The full version: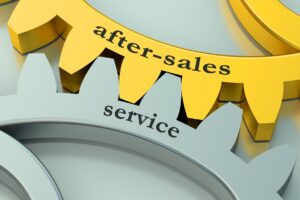 The BDC issues really useful material for small business owners. They are well written and brief. With very little reading you can pick up valuable ideas and tips. For instance, a recent example is a list of five after-sales steps you can take to encourage additional sales:
Send a thank you note after a sale. You want to keep it brief as people tend not to read lengthy notes but, that said, you can include useful information that the customer might be able to use to better appreciate your product and to contact you when they need more. A quick thank you email can do wonders for elevating the reputation of your brand.
After a week or two you might check in with the customer to make sure that the product is performing as expected. You don't want to become a nuisance but a quick check will almost certainly be appreciated.
Communication is an essential element in maintaining a relationship with a customer. Again, you don't want to overdo it, but occasional high-value content can only strengthen the relationship and keep your name in front of the customer.
Further sales will often follow from existing customers. This is why you pamper them (but again, without crossing that line to become a nuisance).
Referrals from happy customers with whom you have a good relationship are an invaluable source of "free" advertising. Don't be afraid to ask for referrals.
These are simple and easy after-sales follow-ups to do. It should be your shop's standard practice.